Monica Thors Photography is proud to offer a line of products for horse lovers!
• Horses are Heaven on Earth CD-ROM of printable horse images. These are some of the best images from Monica's photo library. Also available is Famous Trotters CD-ROM of images for personal use.
• Harness racing stickers. Labels to put on all your mail. Give Harness Racing publicity through your own snail mail.
• The DVD "Real Desire For A Dream" which was shown on RFD-TV in March and April 2005, and also "Inside the Heart Of Harness Racing" are available for purchase.
• Monica Thors also offers her photography services and can be contacted by one of the methods below

For more information - about my work, prices, services or anything else, please contact me by one of the methods below.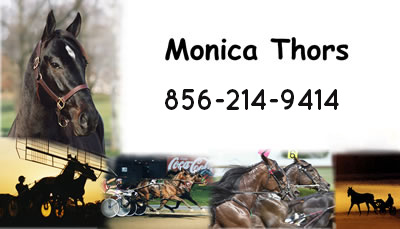 Cell: 856-214-9414
E-mail: monicathors@comcast.net