Astrid Engevold

Astrid was the winner of Hoof Beats photo competition, Professional division 2008. Congratulations!!

"Monica Thors has inspired me to become a better photographer with her fantastic work. With her feedback on my own photos I have learnt a lot about both horses and photography."
Astrid Engevold, Norway


"Monica has inspired me to become a better photographer through her beautiful photography. With her feedback on my photography I have learnt a lot of both photography and how a horse should look in a photograph. Part of my past knowledge of the US Harness racing have come through me looking at Monica Thors photography. She has given me both negative and positive comments so that one can be determined to become a better photographer. With Monicas help did I win the photo contest in Hoof Beats 2008. Monica, Thank you for helping me become a Winner."

Monica har inspirert meg til å bli en bedre fotograf med sine flotte bilder .
med hennes feedback på mine foto har jeg lært mye om både hest og fotografi.
Endel av min viten om amrikans travsport og avl kommer gjennom bildene til Monica Thors. Hun gir bra tilbake medlig både positiv og negativ, så man må strekke seg for å bli en bedre fotograf. Hun hjalp med i forbindelse med fotokonkurransen i Hoof Beats, Monica tusen takk du hjalp meg til å bli en vinner.
Astrid Engevold, Norway
Click here to see some of Astrid's work



Sally
In this age of the internet and instant access to information, aspiring photographers can seek instruction anywhere. When I made the commitment to raise my photography skills to the next level I knew I would need an instructor and lessons from a true professional. My interest has always been in capturing the performance horses in action and their impact they can have on a persons life. I knew I needed guidance from a professional that saw not only my desire for perfect equine images but also understand my passion for horses. Monica was that person. Through her mentorship and lessons I have taken my anxieties and self doubt and put them into a positive energy. At every level of instruction, Monica is enthusiastic, candid, constructive with criticism and above all else, supportive. In the first 10 lessons with Monica I believed I saved hundreds if not thousands of dollars. Monica was quick to point out how to select the right camera, suitable lenses and how to select a professional photo finishing service. Her expertise is graciously shared and was much appreciated. The price of the lessons has been repaid 10 times over in new business. I would highly recommend working with Monica for anyone hoping to become a better photographer.

Sally Shaffer
Sally Shaffer Equine Photography
Thornville, Ohio
Click here to see some of Sally's work

Ann MacNeill
"Monica has been a great help to me in starting my business "Sees The Moment" photography. She has advised me to obtain excellent camera and computor equipment , to enable me to turn out a top quality product. She has also made me aware of using a high quality proffessional lab to process prints, and that has indeed been a big asset. In the first few months of business I have been published in The Harness Edge, Trot, and Canadian Sportsman magazines , all top shelf Canadian publications. I advise anyone who is interested in equine photography as a business or hobby, to take advantage of the resourses Monica Thors offers."
Ann MacNeill, PEI, Canada
Sees The Moment Photography
902-393-8288
www.annmacneill.com
Click here to see some of Ann's work

Lukas Wallin
My name is Lucas Wallin from Sweden and I am 16 years old. I came to USA to study US harness racing as a student in Monica Thors stable. She has 7 harness horses that she trains and owns. Monica is as you know one of the worlds best harness horse photographers. Monica took me to all races , to breeding farms when she was photographing stallions and to different other photo shoots. In the beginning I was happy to just observe and and learn, but slowly I thought it looked like so much fun that I bought my first ''real '' camera ( Nikon D 40 ) . It was Monica and her son Matthew that helped me to pick out what camera to buy as I did not know how to do that.Monica even had a lesson in how to fill out all papers , warranties etc to make sure I was covered with paper work.That took us hours to do right. Then Monica decided to teach me all she could because she could see how interested I was in photography. Monica took me to all breeding farms, races and other shoots. Even though I was here to learn about the horses, we had the time to take good care of horses and same time do all photography, sometimes we had to get up at 2 am and clean stalls and take care of horses to get to a photo shoot and or take horses to their fields for their paddock time after the races at midnight because Monica always put her 7 horses first , , but it was all worth it. Monica always took the time to in the minute detail explain for me what to do and never gave up until I got it. I am very grateful for her being my teacher. Since day one with my new camera, Monica was always there to teach me new things, new angles to look for, new ways of shooting. Monica did all she could to make me a good photographer and for that I am really happy. If you see my photos now I hope you remember that I could not take any photos at all before I got here and now Monica says that my photos could be published anywhere they are that good. Monica got me a press pass at The Meadowlands so I could learn how to take photos at finishlines and winnercircles. That was such a great experince for me as I have been dreaming of being at The Meadowlands and now I even got to take photos, wow .What makes Monica such a great teacher is that she is really honest about my photos and she will tell me wheter they are good or bad and how to improve each photo. She always take her time to teach me new things. She has a lot of patience. She gave me a chance to become a photographer. Thank you for everything. She even worked with me as a person and took the time to explain how to make choices that work for me as a person, that is another thing that I will bring with me for the rest of my life , she likes it when we care of each other in the stables and takes time to do that and talks about everything that comes up so we can all be comfortable Tack för allting / Lucas Wallin 16 years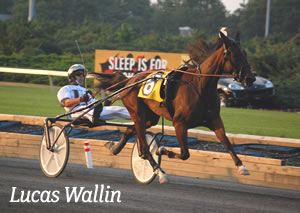 Lantern Kronos


Click here to see some of Lucas' work